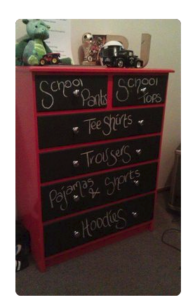 I was browsing my local Facebook Garage Sale page and found this simple organizing for children example. What a cute way to explain that everything has a place and if it is put in its place, Mom will be happy! Chalkboard paint is a simple solution for labeling.
Start Young
For young children, pictures could be added so they could tell where their clothes are stored also. I can imagine sitting down and playing with a small child and deciding where things should go when they are clean.
With little ones, they will enjoy having input on the decision. When simple organizing for children is introduced as young as toddler age, they tend to be more open to putting things away as they grow older, also.
It is a challenge to suddenly announce to your teen that today is the day they start to live an organized life – and lay out the rules. However, if they have always been encouraged to keep a tidy room, you have a chance to see those habits carry over into later years.
Little Helpers
Other ways you can raise a little helper are simple.
When a meal is finished, they can help take the dishes to the sink or help to load the dishwasher. This can be a fun time to interact and share some family time with the little ones. When chores are shared, it doesn't seem like a chore.
Simple habits such as putting away a toy before getting more out or helping put away the towels encourage good helper skills that you will really appreciate as they grow older and potential clutter looms larger.
Make a game of putting toys away.  A prize for the person who puts the most away.
Let them help load the washer or fold clothes.  I can remember folding my father's handkerchiefs when I was about 3.
Child size brooms and dustpans help them learn to sweep.
Please remember that this is a way to encourage little ones as they grow to be bigger helpers – it is not a way to put them to work at an early age. Spend fun time in addition to time spent putting things away.
Have Some Fun!
What are ways you learned to pick up after yourself? Ask yourself how that felt and how to better teach your children to be helpers. Singing a silly little song such as helpers, helpers, we are helpers as you put things away encourages giggles and smiles when done together with grown-ups! It is good to be a little silly and have fun. After all, it is about having a good time and sharing as a family.
Take a minute to hug your little ones today – and hang out with other friends with children soon!